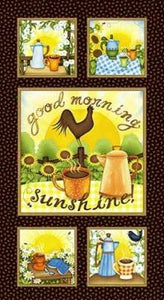 GOOD MORNING SUNSHINE 9746P
Priced and sold individually as 1 unit.

Printed on 100% premium quality cotton. The panel is 24" x 42".
Happy colors and scenes depict a bright and sunny morning. Individual blocks are framed and sashed with dark brown background scattered with coffee beans. Perfect for your breakfast room or where ever you enjoy your morning coffee. 3 companion fabrics are available. Designed by Beth Logan for Henry Glass & Co.

---
We Also Recommend